Archive for TAB
Tech-heads are drooling over the prospect of a second-generation iPad, widely expected to be unveiled in the next month or so. The aforesaid news is old. The breaking news is that finally we have a competitor of iPad in the face of Tablet PC. Tablet PC is all set to confront the iPad. The announcement of "Tablet PC Production" has been made in the past month. After such announcement, tech-lovers are comparing the Tablet PC with iPad. Both appliances are equipped with the state-of-the-art features. The most common comparison between the two is; Tablet PC is meant for business than any other and iPad is heaven for gadget-freaks. Anyhow, the liker of Tablet PC will feel privileged – just because the Tablet PC is available in many versions. Every Tablet PC brand has its own unique features unlike the iPad. The all prestigious brands of computers are in the feet to produce Tablet PCs. It means the consumer will have more variety of Tablet PCs at his or her disposal. One can get the Tablet PC according to his or her own requirement. There is variety of Tablet PCs available in the nearby store. Here we listed below the best 7 Inch Tablet PCs. Enjoy the list!
Samsung Galaxy TAB (7 Inch Tablet)
Much has been written on 7 Inch Samsung Galaxy Tab's performance. Many analysts have compared the features of Samsung Galaxy Tab with Apple's iPad. Without being biased, it is very hard to compare the two revolutionary products. This is so because Samsung Galaxy Tab is mainly produce keeping in mind the daily routine of an employee of corporate sector. Samsung Galaxy Tab is the need of businessman. The Samsung Galaxy Tab was first revealed before tech-savers in Berlin last year. Much media hype had created by Samsung then. This Samsung Galaxy Tab is definitely giving the hard time to iPad. Samsung Galaxy Tab is delicate in using outdoor and indeed the stylish one too. The features of Samsung Galaxy Tab are unmatched. Put Samsung Galaxy Tab in your pouch or man purse or ladies purse, whatever! It will fit due to its slim body. Samsung Galaxy Tab will also work as your part-time cell phone, because it has all phone functions. From video calls to voice chat, 7 Inch Samsung Galaxy Tab is all fit in your desires to have a PC in your pocket. This Samsung Tablet PC has not yet overtakes the iPad market. Samsung Galaxy Tab may take some time to kill the iPad. However, it is clearly seen that Tablet PCs will be leaders of next generation technology. The data operating speed in Samsung Galaxy Tab is much faster than any other Tablet PC. The 7 Inch Samsung Galaxy Tab supports the Android software. This is an iconic feature in Samsung Tablet PC. Samsung has introduced the adjustable automatic screen display in this 7 Inch Tablet PC.
Features of Samsung Galaxy TAB
The heavenly features of this magnificent Tablet PC are:
3G, GPS, HD recording, video chat, WiFi, Bluetooth, accelerometer, geo-magnetic sensor. One can get a lot of accessories for the 7 Inch Samsung Galaxy TAB, including a stylus, TV Out cables for video playback on a bigger screen, QWERTY keyboard, car dock, cases and covers and so on.
Blackberry Playbook
RIM seems to have put together a very tasty Tablet PC. It might be a strange name in the shelf of Tablet PCs. BlackBerry PlayBook is the fastest Tablet PC ever with true multi tasking & face-to-face conversations. The PlayBook, however, has the same price as the iPad – maybe more, maybe less, as it is still making its place in the market. But the PlayBook has already showed the signs of capturing the iPad market. It bodes well for any iPad competition by appearing to be of the same value and worth as the iPad. However, the Blackberry PlayBook do not equipped with 3G technology. It certainly means that a Blackberry cell phone will be needed to connect to the Internet in case of no WiFi Hotspots. This difference would surely not keep the consumers away from buying the Blackberry Playbook, as there is enough stands out options in this Tablet PC. Access to the Android applications is a huge plus for owners of the Playbook.
The main features of Blackberry Playbook are as follows:
Support Android Applications
Own store of applications like the Apple's store
It is equipped with a Flash. Even the iPad does not have the Flash.
QNX Operating System
7" LCD, 1024 x 600, HD Display, Sharp and True Colors
1 GHz dual-core processor
1 GB RAM
Dual HD cameras and HD video recording
Weighs less than a pound
Archos 70
We can call it a multimedia Tablet PC. It supports almost all multimedia formats. Archos 70 is available in two different ranges; one is equipped with SSD 8GB Drive and the other with a hard drive (250 GB).
iPhone is changing the world with its applications. The creators of this phone were genius, they just not created an iPhone they have change the style of living. It is the best gadget that you can use in your daily life. There are so many apps for this phone that you can use them in your daily life.
Cardio:
Exercise is most important for our body. We should do it every morning. It keeps us fit. Apple is having cool apps for Cardio. So, all you Cardio Lover's Just go and buy an iPhone for yourself, because iPhone is having the greatest collection of Cardio apps for you.
5 Best iPhone Cardio Apps:
1. iHeartRate
It is a very simple iPhone application which will allow you to keep track of your heart rate. This app will also help you to know the amount of calories that you burn everyday through exercise. You can easily track your heart rate. What you have to do is that just tap your pulse on your iPhone until your heart rate is registered on your phone screen. Once your heart rate is registered, then you can also keep the track the amount of calorie you are burning. Through real time chronograph you can track your workout as well and can find how much energy you have burnt.
2. iTreadmill
This is a very good application for runners and walkers. It measures the pace and distance. The iTreadmill uses the motion detector of your iPhone and turn the device into a pedometer that counts the number of your steps that you take. This application is outstandingly accurate and you can use it anywhere indoor or out door. With this app you can track your past sessions, and can see whether you have made any progress on daily basis or not.
After getting your domain name registered, paying off to your web host to get hosting for your website, and uploading your website on the web server, its time to view the final shape of your website. If you cannot view your website after all this hard work then does it mean it that you are missing something or is it just something with DNS propagation?
Understanding DNS Propagation
Before understanding the DNS propagation, you should be aware of the working of DNS. A master DNS is created by your web hosting provider in the event when you set your website up with it. This Master DNS is recorded in the Domain Name Server of your web hosting provider. The company which registers your domain name contacts to the DNS server of your web hosting provider. Your domain name registrar does it as the master authority of your domain which you have registered with it.
How Your Website is Being Searched?
When an outsider source searches your website, it first switches to the registration database in order to find out about the DNS authority of your website. After then that it goes to the DNS sever of your web hosting service provider in order to find out the IP address of your website's domain name. From this IP address, this outsider source locates your website and can view your website.
Caching the DNS Records
The only problem with this searching process is that when your website is searched on internet by an outside source, the search process is catalyzed, as every ISP caches it DNS records to display your website in quick time. Read More
There is no doubt in the popularity of the iPad. However, it is incomplete, unless you add some necessary accessories which ensure improvement in the protection or even functionality. Speaking of protection, iPad cases qualify as the basic necessity of your iPad. And out of the vast ocean, some of the top products are discussed based on their practicality. Among other types, hard cases for iPad provide your gadget with best protection.
Advantages of iPad Hard Case
Doesn't make your iPad look bulky.
Provides protection against scratches and stains.
Makes your iPad stand out among a million others.
In short, an iPad hard case makes your gadget much stronger and resistant to physical damage.
Top Products
Here best hard cases in market are listed. The criteria for selection of these top products are as follows:
Appearance
Cost
Assessments of users.
1. Incipio Destroyer Overkill Brushed Titanium – $119.99
The cost for a hard case that has not even been released yet does appear to be outrageous. However, only when you take a closer look into the specs of this case, will you realize that this actually is the Ultimate Top Product for the protection of your iPad. The Incipio Destroyer Overkill is made of a hi-impact military spec nylon (Zytel), which has two side rails; made from CNC machined billet aluminum. This triple layered case includes a silicon shock absorbing skin, which holds the iPad tightly. Apart from all the protection, the bi-colored black and titanium finish looks commendable and fits in perfectly on the iPad, posing to be a part of the iPad's original design.
2. Otter Box Apple iPad Defender Series Case – $49.99
There are cases that pose to look tough, and then there are cases, which are actually tough on the inside. The Otter box Defender series case is the latter. It has three layers of polycarbonate material all around its structure. The back splits into two, one of which covers and protects the most vital part of the iPad – the screen – when on the move.
When you need to sync/charge your iPad, there's no need to take the case off. The Otter box Defender comes with a snap-off portion that can easily be removed, which also acts as an ideal desk stand for the iPad, making typing and reading on the iPad much more comfortable. This hard-case cover seals off your iPad's ports with Silicon plugs so you can use it in even rough environments. The price for this kind of protection is not bad at all.
3. Hard Candy Cases Street Skin – $37.45
The name candy probably gives the wrong impression of this tough case. The tabulated rear surface looks like an ancient armor, but at the same time it acts as one too. Just one look at it is enough to ensure you that this Hard Candy Street Skin is designed to last. Along with the protection, it gives you access to all the controls of your iPad. The TPU rubber skin tightly snuggles your iPad for increased protection, minimal stretching, and virtually effortless cleaning. The snap-on integrated screen enclosure makes the installation really easy. This Hard Candy Street Skin Case for your iPad also comes in Pink and clear, along with black.
If you are trying to unlock your iPhone 3G for many time but still couldn't succeed then don't worry you have stumbled upon the right place. There is a new application that has been introduced by Dev Team and it is all about unlocking the iPhone 3G in few simple steps. This application is really very a precious tool for new iPhone 3G users who are unaware of how to unlock their iPhones.
Prerequisite things to unlock iPhone
To unlock your iPhone 3G, you need to have following things.
Jailbroken iPhone Running Firmware 2.2 is required that must be with a baseband modem firmware as 02.28.00.
To determine which version of firmware you currently have, go to settings; go to general then about then move down to check the version of your firmware modem.
Samsung, One of the best mobile manufacturers, has announced another wonderful android SmartPhone named, Samsung Galaxy Fit S5670, which comes in a stylish design with unique high-mobility multimedia features and applications. It is one of the Samsung's 2011 budget phones.
Features:
Samsung Galaxy Fit GT-S5670 Android SmartPhone is an entry level Android SmartPhone. It offers you following features:-
Android v 2.2 Froyo OS
600MHz Processor with 3D Accelerator support
5-megapixel autofocus camera
3.31-inch QVGA Touch-screen display
150MB internal memory
External memory slot (MicroSD Card supporting up to 32 G)
RSS Reader and Web kit Browser
Swype Keyboard, document viewer
Windows 7 PC Tablet is not worth only for its appearances. It is  Windows 7 enabled  which  makes it a total new device  for use. You will choose to adopt for personal use once you check out its features, functions and usability. If you are not feeling comfortable using old netbook, this one will give you an entire new touch using windows 7. You may replace your netbook with this window 7 Tablet PC.
Specifications:
Display: 9 inches 1024×600 resistive touchscreen display
Operating System: Available with or without Windows 7 operating system.
CPU Processor: 1.66GHZ Atom N280
Memory: 2GB 667MHz DDR2 RAM
Hard Drive: 32GB SSD (16-64GB available, 128GB coming soon)
Connectivity: 3G modem (use your own SIM)
Ports: 3xUSB, SD slot (includes 8GB card), combo RJ-45/VGA slot
Camera: Front webcam
Now iPad is offering great set of productive apps for professionals, who can use these productivity apps anywhere. It is very difficult to understand the technology of iPad as it provides you a lot with a faster processor and a bigger screen. It has the productivity abilities like one's in the office. New added iPad productivity apps make it different from many other technologies, which is also the point of attraction for many new users. With these Productivity apps for iPad you can finish your tasks before time and in a more professional way. There are many interesting iPad productivity apps but here we will discuss the top 10 for your assistance.
Top 10 Productivity Apps for iPad
You can use your iPad for some of the great productivity apps. With the use of these productivity iPad apps you can achieve your tasks and goals to boost your business. So here are the top 10 iPad productivity apps.
1. Papers Productivity Apps for iPad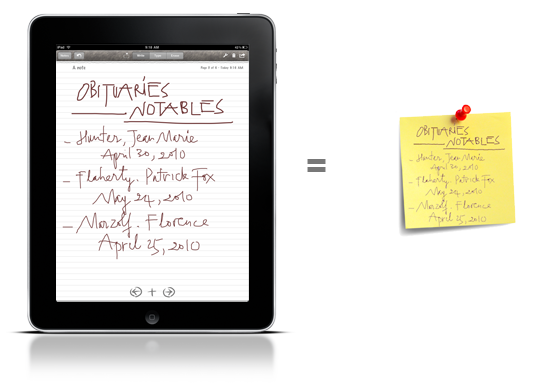 It provides you to arrange and manage your important papers into your iPad library which is being treated as a research tool. With this, it also allows you to access eight informative databases having millions of articles.
2. PDF Reader Pro Edition for iPad
iPad PDF reader can exchange PDFs via USB file transfer through Wifi, emails or iTunes. This is ultimate and comprehensive PDF app for iPad supports auto rotation, searching, bookmarks and many other features. The famous use of this app is telecommuting through iPad.
3. DeskPad Office Productivity Apps for iPad
DeskPad Office allows to you take notes and keep in track the aspects of social and professional life. It gives you the full authority to scribble on iPad as you want.
4. Things Productivity Apps for iPad
Things for iPad apps are very productive, interesting and user-friendly. You can rearrange the lists into projects, perform sorting task for various criteria and keep these features together with things. iPhone and iPad apps can sync wirelessly with Things desktop version.
5. PrintCentral Productivity Apps for iPad
PrintCentral is fulfilling your printing requirements. If you get your stuff printed spending a lot of money, then just check more options in iPad to print.
6. Desktop Connect Productivity Apps for iPad
Desktop Connect is a productively designed for iPad and its well connected too.
Many best mobile phone companies are also providing many good and beneficial accessories for the mobile phones. Out of these best companies, iPhone is also providing many good accessories for the iPhone mobile users. These accessories help the iPhone users to use their iPhone more easily and conveniently. These accessories also include some battery extenders. These battery extenders help the iPhone user to use the battery for a long time, during long journeys or in long working days.
Best five battery extenders for iPhone
There are many good and useful accessories for the iPhone.
There are also some battery extenders in these accessories. Out of hundreds of such accessories, following are the best five battery extenders for the iPhone mobiles to ease the iPhone users.
1. Kensington K33457US charging dock with mini battery pack
This battery extender is especially designed for iPhone4. This battery extender is considered to be the best battery extender for iPhones. For those iPhone users who can not charge their iPhone battery ever day can use this iPhone battery extender. This will help to extend the time of the battery up to 30 to 35 hours, if you only listen to music, six hours for video and three hours for talking time.
Sony one of the best manufacturers is now in discussion. Laptops, desktops, notebooks are the popular items of Sony. All the products are quite expensive as compare to the Japanese products but, they are best as well as for the long term purpose too. Sony VAIO J, one of the best product is all in one touch screen monitor with the best specifications and the best part is, it is not costly. $900 is quite less when you are getting every single specification. Sony is a leading manufacturer in the world and is continuously proving its skills by introducing latest models with additional and attractive features / specifications.
Specifications
This 21.5 inches cheap tablet is the best product by Sony that gives you an integrated hardware, core i7 and windows 7 too. With the integrated hardware, you can play games and can run as many applications as you want. 8 GB RAM, blue ray device and 500 GB 7200 RPM in a slim touch screen is really fantastic and no one will lose this great opportunity. All these specifications / features are in this all in one touch screen and you can use them in whatever way you like.
Go For The Best One
You might give a huge amount for a desktop embedded with super specifications but, in the end will miss the fun of touch. Never spend heavy amount on those desktops that do come along with numerous applications, specifications and features because they might create trouble for you in the future.