Archive for mac
iPad is one of the hottest and best selling device by Apple. Their of thousands of business apps available at iTunes which are exclusively developed for iPad. If you are a business person, then you will probably find these apps very handy with your business. Here is a list of Top 10 best business apps for iPad.
1. AirDisplay 1.2 for iPad
You can now turn your iPad into a second LCD for your MAC or Personal Computer. AirDisplay 1.2 can cater you outlook account and also your twitter account and can put them on the screen as long as your iPad is attached with your other media device.
2. Bento
With over 25 different database templates, Bento has proved to be a very useful assistant for your business matters. You can organize your business related stuff in this database system very easily. Its easy to use interface allows even common people to maintain their activities in an efficient manner.
3. Calculator for iPad Free
Calculator may be counted as the basic need in every sort of business. Now you can carry your calculator everywhere with you in your iPad. The simple and scientific modes can be selected as per need. The user friendly interface with large screen allows the user to operate it very easily. 
4. Citrix Go To My PC
This is a very handy app as you can control your computer with you computer through your iPad with this amazing app. When you are away and you are worried about your work on computer, this app will help you to keep in touch with your computer. Although it lacks the multi-tasking feature but still it is good enough to be in your iPad. 
5. Dragon Dictation
This is an internet enabled app. You will no longer need your personal assistant to write notes that you dictate him or her, as you can now dictate all your important notes on this app and it will transform the voice signals into text. You can also send or receive emails and use facebook through this awesome app. 
6. Dropbox for iPad
Keep all your important files in organized manner with Dropbox.
Want to see a place but cannot afford the trip well the internet is the place that solves many problems and it has solved this one too. Google has introduced its service named Google Earth which takes you any place you would like to go by just sitting on the computer. Google Earth is a comprehensive application that can be downloaded on your PC, laptop, Mac and even your smartphone. The best about is that it is free.
How it Works
Well, first you have to download the application from the Google website or there is also an online version which is less detailed than the original. Google Earth basically provides satellite images of any place on this Earth. You can visit any city you would like in your home. These places are also detailed with roads and pictures of the places you are currently visiting. Google has put much detail in this application. Many cities are also modeled in three dimensional layers giving a more realistic feeling to the virtual visitor.
Finding Places to go on Google Earth
Google Earth also provides the feature through a person can find restaurants, clubs bars and even business centers of various organizations. You can locate petrol pumps as well as hotels. This feature is clearly the best for tourists who find it hard on a map to find places of interest.
Flight Simulator Game within Google Earth
If you want to fly around different places on Google Earth you can use the flight simulator present in the Google Earth. Read More
It is fair to say that iPhone makers have had a few hectic months. Antenna gate still some gloss off the launch of the iPhone 4, Apple is trying to move quickly to the whole affair under the carpet shame once and for all.So how does the Cupertino Company to compensate for missed unhappy past events? Be ', Apple's special event "to show off a huge revised iPod Nano and iPod Touch might just do the trick.
Surveying what has already sunk into cyberspace on a possible new addition to the family of Apple PMP, see below for our race to the bottom of rumors about the new iPod Touch.
iPhone OS 3.2 Reveals New iPod Touch
In April this year as the iPad has been hitting the stores, Boy Genius Report has noticed that the OS supports in terms of new models of iPod, iPhone and iPad. While this may not be a surprise since Apple tends to update their programs regularly these days, it was still enough to get these fanbois speculate what Apple had lined up next.
New iPod Touch Specifications
UK retailer John Lewis leaves more than the cat out of the bag, revealing not only an updated iPod Touch was on the cards, but they had an idea about the specifications which they said was based on "sound that we hear from suppliers."
During an event to show his range in July, saying the retailer that there was a five mega pixel camera with flash, HD video, an accelerometer and a camera gyroscope forward facing to forward video calls FaceTime.
Face Time
He had a new iPod Touch picture that shows the face of a space-time camera. This feature is only working between the iPhone four handsets.
iPad is stunning product from Apple. It allows user to browse to the Internet, watch videos, listen music, read books, games and much more. There is wide range of applications in every field. For music lover here are 10 best Music applications for iPad. Now you can make and play your own music on your iPad.
10 Best iPad Music Applications
Here are 10 most popular music applications. Now using these applications you can create your own music tunes of your taste
1. StreamToMe
The StreamToMe application provides your iPad Touch to play video, music files and photo files in wide variety of formats. You can also stream directly over WiFi from another Mac or PC. You can also connect your iPad to your TV out cable and use it as a wireless streaming media center
2. Shiny Drum
Shiny Drum is designed by Out Of The Bit and Leo Di Angilla a music application for iPad. In this you can create different drums beat.
3. TabToolKit
TabTookKit, this application has won award in 2010. the features of TabTookKit having a powerful guitar and music notation viewer and you can play multi-track at a time. It is an essential tool to learn and practicing music.
IPad is one of the most famous and attractive mobile phone company in the world. These phones are most popular in businessmen and youngsters. iPad is providing many useful and attractive applications for the iPad users. These applications are especially designed according to the demand and satisfaction of the iPad users. From hundreds of iPad applications, following are the best ten applications.
1. ABC player
This iPad application is especially designed for those iPad users who are great fan of huge lost, flash forward or v-fan. You can easily watch all these programs on your iPad screen. These programs are available on your iPad screen with very good resolution and graphics. ABC player also enables an iPad user to watch films and videos.
2. iBooks
Reading books is a very good habit. If you love reading books, this iPad application is one of the best iPad application for iPad users.
Everybody is well aware of the utility of calendar in our lives. Following are therefore 10 top Mac Calendar applications:
1. ICAL
It is easily accessible and also be readily used on you Mac. You can have a look on calendar by different arrangement, i.e. months, weeks and days. It can easily be synchronized with iPhone either through iTunes or with MobileMe. You have the possibility of appending some occasion to any date that you don't want to forget.  You will also be able to catch revelations of the occasions. You can incorporate the address book in your ICAL.
2. Mozilla Lightning
The Mozilla Lighting is a tag on facility. Besides this you can also append other add-ons to make utilization of these. With the help of this application, you may insert or rework several of your jobs and have the possibility of seeing it in terms of moths, weeks, days.
3. Microsoft Entourage
This is a built in feature of Microsoft Office, Mac 2008 packet. You can have a look at event in task weeks, days and month set up. Besides this you can also identify various events with different colors. You can not only modify as per your requirements, but can also sieve the selection. This calendar is also an element of project management, email and the address book integrated in Microsoft Entourage.
4. Busycal
Though the interface of Busycal is fairly similar to ICAL, but its use is easier. You have the option of synchronizing it not only with iPhone, but also with Google Calendar and Bonjour with the complete permission of reading as well as writing. In order to arrange the occasions by name, date, event, etc; it offers a list view. Additionally, you can also have a look at current climate foretell and can use your technique to arrange the agenda. The trial version with family pack is available at US$ 79 and for a single user at US$49.
5. Free Online Google Calendar
The online Google calendar can be accessed free of cost. With the help of this, you can generate some task, roll it and get through your preferred date. You can also alter the colors, pull and plunge tasks to newly selected date.
It is always a problem to manage the files and folders in any smart phone. This thing is quite easy and affordable in case of iPhone mobiles. You can manage your files and folders in your iPhone mobile by using different iPhone management applications. iPhone provides a variety of flexible applications, for the administrators to manage their files in their iPhones.
Best Five iPhone Applications for Disk Management
There are more than hundred iPhone applications that are available to manage the files and folders in your iPhone mobile. From the hundred of iPhone desk management applications, following are the best five iPhone applications for this purpose:
1. Air sharing
This is one of the best iPhone applications that enable an iPhone user to manage your files and folders in your iPhone mobile. You can arrange these files according to any sequence, for your comfort and ease. You can purchase this application from any Apple App Store.
2. ezShare
This is an advance application by iPhone for the iPhone users. iPhone users can use this application to visit and download the files directly from the laptops and computers. This allows you to visit your complete computer files and documents from your iPhone mobile. This application saves a lot of your time. You can get more details and can also purchase this application from any Apple App Store.
3. WiFi Disk
This is one of the best iPhone applications to manage your files and documents. By using this disk management application you can easily manage and control your files in a systematic way. This application converts your iPhone memory in a portable hard disk.
If you own an iPod or i Phone then you might be wondering how come it's possible to copy data on to your iPod but not on to your iPhone. The answer to this is that it's not easy and possible to transfer data onto your phone until and unless you jail break your phone. Jail breaking is the only solution which allows you to transfer your data from your desktop onto your iPhone.
For those users who have not yet jail broken their iPhone then this is the tutorial which could help you out jail breaking your iPhone in easy way.
For Users of Windows
In order to transfer data from windows to iPhone you would have to download the iPhone browser. This is software which allows you to drag and drop your data onto the hard disk of your iPhone. This browser is based on windows which allow users of windows to easily transfer data.
Once you have downloaded the iPhone Browser from http://code.google.com/p/iphonebrowser/downloads/list, you would have to run the installer. This might not work well in Windows Vista, however it works absolutely fine on windows XP. After download this, you would be required to upgrade your iTunes to 7.7.1
The last step is to open the iPhone browser, connect your iPhone to the desktop through the USB cable and then just drag and drop your data on to your iPhone.
For Users of Linux & Other Operating Systems
On any given operating system, if you have a FTP program then you can transfer data onto your iPhone via OpenSSH. In order to make this work you would have to go to Cydia on your iPhone, then navigate to the bottom of the pane and then scroll to Networking->OpenSSH. After reaching this point, you would have to tap on the screen to install it.
Apple iPod's and iPhone's are an addiction for music lovers. However many of them dislike the media player that is supported in the iPod's and iPhone's. This media player is known as the iTunes.iTunes is the only way people can sync their iPod's and iPhone's to their computers. This can be frustrating for many people.
The first reason for this is that they don't like the media player itself. The second reason is that they use software's which don't support iTunes.
Linux Users
A disadvantage is that iTunes is only supported in MAC and Windows.  Therefore other users such as Linux users can face problems. They will have to find another way to sync their iPods to their computers.
Other Media Players
There are other media players available for Linux users. An example is the Winamp media player. Most people dislike certain things about iTunes.
Both of the awesome invents iPhone and iPod Touch  has amused thousands of people with  extraordinary features . But this feature really makes one feel to buy iPod Touch or iPhone when you can turn  any of it as remote and control your very own personal computer.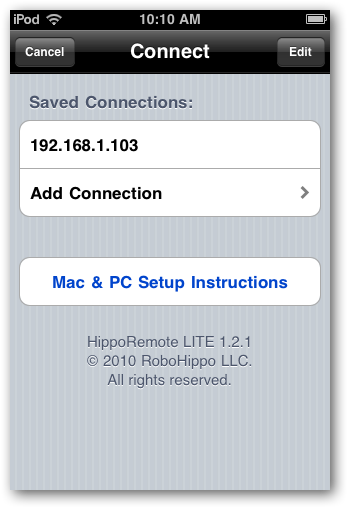 Yes, this is possible. Now make your iPhone or iPod Touch a remote for controlling your PC.
Things you need:
Personal Computer with Mac, Windows or Linux operating system. (Here I am assuming that you have Windows 7 OS at your system.)
A third party software HippoVNC server installed on your PC.
Install HippoRemote Lite application from Apple App Store on your iPhone or iPod Touch.
A Wi-Fi router.
Step 1, install HippoVNC server
You have to install the HippoVNC server on your personal computer. You can download the software from application developer's website free of cost.
When HippoVNC server download completes at your computer, open and run the software.
Select the destination folder where HippoVNC server's file to be extracted.
Now execute the WinVNC.exe file from the folder.
Your computer's Firewall may alarm you during installation, just click allow access.