Archive for iTune
Now iPad is offering great set of productive apps for professionals, who can use these productivity apps anywhere. It is very difficult to understand the technology of iPad as it provides you a lot with a faster processor and a bigger screen. It has the productivity abilities like one's in the office. New added iPad productivity apps make it different from many other technologies, which is also the point of attraction for many new users. With these Productivity apps for iPad you can finish your tasks before time and in a more professional way. There are many interesting iPad productivity apps but here we will discuss the top 10 for your assistance.
Top 10 Productivity Apps for iPad
You can use your iPad for some of the great productivity apps. With the use of these productivity iPad apps you can achieve your tasks and goals to boost your business. So here are the top 10 iPad productivity apps.
1. Papers Productivity Apps for iPad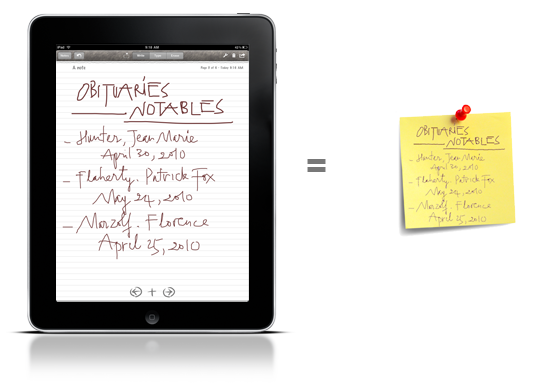 It provides you to arrange and manage your important papers into your iPad library which is being treated as a research tool. With this, it also allows you to access eight informative databases having millions of articles.
2. PDF Reader Pro Edition for iPad
iPad PDF reader can exchange PDFs via USB file transfer through Wifi, emails or iTunes. This is ultimate and comprehensive PDF app for iPad supports auto rotation, searching, bookmarks and many other features. The famous use of this app is telecommuting through iPad.
3. DeskPad Office Productivity Apps for iPad
DeskPad Office allows to you take notes and keep in track the aspects of social and professional life. It gives you the full authority to scribble on iPad as you want.
4. Things Productivity Apps for iPad
Things for iPad apps are very productive, interesting and user-friendly. You can rearrange the lists into projects, perform sorting task for various criteria and keep these features together with things. iPhone and iPad apps can sync wirelessly with Things desktop version.
5. PrintCentral Productivity Apps for iPad
PrintCentral is fulfilling your printing requirements. If you get your stuff printed spending a lot of money, then just check more options in iPad to print.
6. Desktop Connect Productivity Apps for iPad
Desktop Connect is a productively designed for iPad and its well connected too.
Iphone is the best mobile phone in the world as it is providing many music applications for the music lovers. Many iPhone users purchase iPhone because of these iPhone music applications. To sync your iPhone and Ipod mobile with your computer, iTunes is the only source or medium available as default. This iTunes is supported by Mac and windows operation system only. This program is not supported by Linux. So those users who are using Linux have to find some other program for their iPhone to sync music. There are also many other applications available for the iPhone users to transfer the music from computer to iPhone without using iTunes. One of these iPhone applications is Share Pod. Following are some details about this iPhone application.
Share Pod
This iPhone application is used to transfer the music from computers to iPhones with out using iTunes. This iPhone application is also available for iPads. This iPhone application is loved by many iPhone users, who are used to transfer music from iPhones to computers and computer to iPhones. Share Pod is considered to be the simple and light application for the iPhone. It enables the user to transfer music very fast and easily.
Direct music playing option
Share Pod is a very useful and interesting iPhone and iPad application that it provides an option to the iPhone user to play a music track directly from the iPhone, with the help of this iPhone application.
If you own an iPod or i Phone then you might be wondering how come it's possible to copy data on to your iPod but not on to your iPhone. The answer to this is that it's not easy and possible to transfer data onto your phone until and unless you jail break your phone. Jail breaking is the only solution which allows you to transfer your data from your desktop onto your iPhone.
For those users who have not yet jail broken their iPhone then this is the tutorial which could help you out jail breaking your iPhone in easy way.
For Users of Windows
In order to transfer data from windows to iPhone you would have to download the iPhone browser. This is software which allows you to drag and drop your data onto the hard disk of your iPhone. This browser is based on windows which allow users of windows to easily transfer data.
Once you have downloaded the iPhone Browser from http://code.google.com/p/iphonebrowser/downloads/list, you would have to run the installer. This might not work well in Windows Vista, however it works absolutely fine on windows XP. After download this, you would be required to upgrade your iTunes to 7.7.1
The last step is to open the iPhone browser, connect your iPhone to the desktop through the USB cable and then just drag and drop your data on to your iPhone.
For Users of Linux & Other Operating Systems
On any given operating system, if you have a FTP program then you can transfer data onto your iPhone via OpenSSH. In order to make this work you would have to go to Cydia on your iPhone, then navigate to the bottom of the pane and then scroll to Networking->OpenSSH. After reaching this point, you would have to tap on the screen to install it.
People are always looking to transfer the iphone apps and songs to the new computer for many applications. These people are not generally understood with the exact procedure. However, this is not so much difficult. One can easily transfer iphone apps and songs to the new computer using the proper way. Some time people lose the purchased music from their phone when synced it in the wrong way. We are going to describe here a simple method to transfer the iphone apps and songs to the new computer.
Procedure
1. First of all go to the apple's site i.e http://www.apple.com/itunes. Look for the latest version of itunes. Simply download it and install as the usual way.
2. Sharepod is a free utility that can also be used. Anyone can find it by exploring the site http://www.softpedia.com/get/IPOD-TOOLS/Other-IPOD-tools-Updates/SharePod.shtml
3. After installation, itunes can be opened. It must be ensured that account of itunes store was properly managed. This is mostly the same account which used to shop all other apps.
Technology plays a vital role in our society these days. Every year we come across new advancements and new innovations. Every thing has its pros and cons especially when it comes to machinery and different gadgets. Just like other new innovations, Apple iPad is a new one in the market with its huge launch. It is an attractive gadget and is taking people's attention with its looks. You know what they say, "looks can be deceiving". So when it comes to this gadget, it is not that much reliable as it seems. Ten reasons for not buying iPad are:
Limited Features
1. Apple iPad has very limited features, it provides only the entertainment features like You Tube, iTunes, Emails and eBooks etc. so the one's looking for any marketable functions in it shouldn't waste their money over it.
Operating System
2. The new iPad does not have Operating System X which mostly people prefer to use. It would be considered as a limitation for those who use other Intel processors rather than apple processors. Read More
With the rapidly changing models of iPhone, the users of iPhone must also come across the question ; How I can transfer the iPhone 3G apps to iPhone 4G, especially when you and your close relatives, like wife, son or brother are using different models of iPhone with the distinction of 3G and 4G. You, don't need to worry; as it is pretty simple to do so. Not only this, but through this process; you can also copy any licensed iTunes from one PC to another. This method is adopted to transfer the apps from iPhone 3G to iTunes and then to the ultimate object iPhone 4G.
Instructions that need to be followed are:
The foremost step is to open iTunes on the PC that you uphold with the iPhone 3G.
P.S: You must ensure to use the iTunes that assimilates to the targeted iPhone 4G. There is a great probability of muddling up the things, if you sync your iTunes with iPhone 4G (the one with your wife).

You must permit iTunes to utilize and access your account details, which is dissimilar to the one on PC at present. This can be done at the most to five separate computers. It is in fact very easy; go to "Store> and click authorize computer"
You need to verify your iTunes account details and then click "Authorize". The software will let you know, if you have authorized more than five computers. In this regard, you will have to free the one on copy of iTunes that you have already authorized. Subsequently choose "Store> De authorize Computer".
Apple iPhone is offering many programs and applications to its costumers. New apple is providing its applications for multiple uses. You can share your applications with your friends and family members with out paying extra money. Apple provides you a password for your application so that you can share your application in a secure way.
Advantages of iPhone applications
If you want to share a single iPhone application with your family members, you need to buy multiple copies of Super Monkey Ball or Texas Hold Em Poker for every member of your beloved family. It would be a bit expensive for those having a big family but Apple would be very glad to have your interest for such an interesting activity.
For those who have some knowledge about the iTunes, will be sharing a single application throughout the household or that can also be shared with friends as well. A little and useful lesson might help you all to get your phone applications and games shared with other iPhone users.
Utilities, productivity, games and software are the most important applications used in the iPhones. How to find and download these applications for iPhone is the major issue regarding to their utilization and requirement. Apple introduced its first iPhone mobile in January 2007 which raised the revolution in the iPhone technology. Handy applications of iPhones like its attractive look, internet applications, data storage, data transfer and reliable communications makes it prestigious for the lives of people. These applications of iPhone also make it versatile and remarkably successful among the mobile technology communication.  It works similar to a laptop or pocket computer with the lot of similar handy and important application.
Special Features of iPhones
It contains the downloading capabilities of dozen of useful applications and data like entertainment, education, fun, communication, and messaging etc. These applications are available for prices as well as free. There are different sub categories of these applications as games, audio video music, movies, weather, education, finance, stock market, and traveling etc. Read More
The Apple's iPad is a blend of the features from the iPhone and iPod Touch. It works like the enhanced form of the iTunes or can be said more like a juke-box as the iPod previous experience. But when Apple decided to merge iTunes and iPod features to create iPad's music player, the basic feature 'shuffle' was lost in between them.
It is contrary to Apple's other applications. If you check individually in iPod Nano or Classic, you will see the option of shuffle on the front menu, where as in iPad, it is hidden.
The feature is not included among the lost ones, it is still there in the back burner. Apple's previous record in making features like Genius Playlist Feature and Genius Mixes Features provided its bulk customers to shuffle music randomly. At the end, Apple did provided a feature of Genius playlist button on the iPad's music line.