Archive for Intel
Tech-heads are drooling over the prospect of a second-generation iPad, widely expected to be unveiled in the next month or so. The aforesaid news is old. The breaking news is that finally we have a competitor of iPad in the face of Tablet PC. Tablet PC is all set to confront the iPad. The announcement of "Tablet PC Production" has been made in the past month. After such announcement, tech-lovers are comparing the Tablet PC with iPad. Both appliances are equipped with the state-of-the-art features. The most common comparison between the two is; Tablet PC is meant for business than any other and iPad is heaven for gadget-freaks. Anyhow, the liker of Tablet PC will feel privileged – just because the Tablet PC is available in many versions. Every Tablet PC brand has its own unique features unlike the iPad. The all prestigious brands of computers are in the feet to produce Tablet PCs. It means the consumer will have more variety of Tablet PCs at his or her disposal. One can get the Tablet PC according to his or her own requirement. There is variety of Tablet PCs available in the nearby store. Here we listed below the best 7 Inch Tablet PCs. Enjoy the list!
Samsung Galaxy TAB (7 Inch Tablet)
Much has been written on 7 Inch Samsung Galaxy Tab's performance. Many analysts have compared the features of Samsung Galaxy Tab with Apple's iPad. Without being biased, it is very hard to compare the two revolutionary products. This is so because Samsung Galaxy Tab is mainly produce keeping in mind the daily routine of an employee of corporate sector. Samsung Galaxy Tab is the need of businessman. The Samsung Galaxy Tab was first revealed before tech-savers in Berlin last year. Much media hype had created by Samsung then. This Samsung Galaxy Tab is definitely giving the hard time to iPad. Samsung Galaxy Tab is delicate in using outdoor and indeed the stylish one too. The features of Samsung Galaxy Tab are unmatched. Put Samsung Galaxy Tab in your pouch or man purse or ladies purse, whatever! It will fit due to its slim body. Samsung Galaxy Tab will also work as your part-time cell phone, because it has all phone functions. From video calls to voice chat, 7 Inch Samsung Galaxy Tab is all fit in your desires to have a PC in your pocket. This Samsung Tablet PC has not yet overtakes the iPad market. Samsung Galaxy Tab may take some time to kill the iPad. However, it is clearly seen that Tablet PCs will be leaders of next generation technology. The data operating speed in Samsung Galaxy Tab is much faster than any other Tablet PC. The 7 Inch Samsung Galaxy Tab supports the Android software. This is an iconic feature in Samsung Tablet PC. Samsung has introduced the adjustable automatic screen display in this 7 Inch Tablet PC.
Features of Samsung Galaxy TAB
The heavenly features of this magnificent Tablet PC are:
3G, GPS, HD recording, video chat, WiFi, Bluetooth, accelerometer, geo-magnetic sensor. One can get a lot of accessories for the 7 Inch Samsung Galaxy TAB, including a stylus, TV Out cables for video playback on a bigger screen, QWERTY keyboard, car dock, cases and covers and so on.
Blackberry Playbook
RIM seems to have put together a very tasty Tablet PC. It might be a strange name in the shelf of Tablet PCs. BlackBerry PlayBook is the fastest Tablet PC ever with true multi tasking & face-to-face conversations. The PlayBook, however, has the same price as the iPad – maybe more, maybe less, as it is still making its place in the market. But the PlayBook has already showed the signs of capturing the iPad market. It bodes well for any iPad competition by appearing to be of the same value and worth as the iPad. However, the Blackberry PlayBook do not equipped with 3G technology. It certainly means that a Blackberry cell phone will be needed to connect to the Internet in case of no WiFi Hotspots. This difference would surely not keep the consumers away from buying the Blackberry Playbook, as there is enough stands out options in this Tablet PC. Access to the Android applications is a huge plus for owners of the Playbook.
The main features of Blackberry Playbook are as follows:
Support Android Applications
Own store of applications like the Apple's store
It is equipped with a Flash. Even the iPad does not have the Flash.
QNX Operating System
7" LCD, 1024 x 600, HD Display, Sharp and True Colors
1 GHz dual-core processor
1 GB RAM
Dual HD cameras and HD video recording
Weighs less than a pound
Archos 70
We can call it a multimedia Tablet PC. It supports almost all multimedia formats. Archos 70 is available in two different ranges; one is equipped with SSD 8GB Drive and the other with a hard drive (250 GB).
This is the era of technology and without technology you are nothing. Because of technology we are able to do a lot of things like buy and sell products anywhere in the world, can talk to our loved ones, give interviews etc. Talking about the laptops which are very common now a days and every individual needs it for their work. Due to the advancements in the technology now there are also touch screen laptops which are very user friendly and saves your time as well but people are not aware about them .The touch screen laptop has a touch screen input and it comes in a top product category.
Top Product:
Touch screen laptops are a bit expensive comparing with the other laptops, because it has a touch input and it's a top product because it's new in the market. There are many companies who are making these top products that are Acer, Dell, Toshiba, Lenovo etc. These top products have a high efficiency and perform very well.
Acer Aspire AS5745PG:
If you want a powerful laptop for yourself and its features contains a touch screen with a huge display that is around fifteen inches high definition crystal light emitting diode back light touch screen display with a processor of two thousand four hundred GHz Intel core i5 dual core processor which is efficient at work. It has a four GB Random Access Memory in it which fastens the speed more.
Now iPad is offering great set of productive apps for professionals, who can use these productivity apps anywhere. It is very difficult to understand the technology of iPad as it provides you a lot with a faster processor and a bigger screen. It has the productivity abilities like one's in the office. New added iPad productivity apps make it different from many other technologies, which is also the point of attraction for many new users. With these Productivity apps for iPad you can finish your tasks before time and in a more professional way. There are many interesting iPad productivity apps but here we will discuss the top 10 for your assistance.
Top 10 Productivity Apps for iPad
You can use your iPad for some of the great productivity apps. With the use of these productivity iPad apps you can achieve your tasks and goals to boost your business. So here are the top 10 iPad productivity apps.
1. Papers Productivity Apps for iPad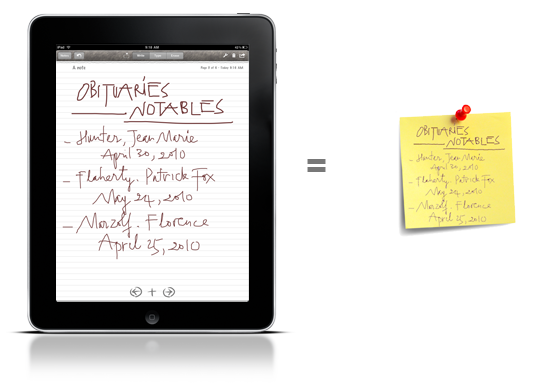 It provides you to arrange and manage your important papers into your iPad library which is being treated as a research tool. With this, it also allows you to access eight informative databases having millions of articles.
2. PDF Reader Pro Edition for iPad
iPad PDF reader can exchange PDFs via USB file transfer through Wifi, emails or iTunes. This is ultimate and comprehensive PDF app for iPad supports auto rotation, searching, bookmarks and many other features. The famous use of this app is telecommuting through iPad.
3. DeskPad Office Productivity Apps for iPad
DeskPad Office allows to you take notes and keep in track the aspects of social and professional life. It gives you the full authority to scribble on iPad as you want.
4. Things Productivity Apps for iPad
Things for iPad apps are very productive, interesting and user-friendly. You can rearrange the lists into projects, perform sorting task for various criteria and keep these features together with things. iPhone and iPad apps can sync wirelessly with Things desktop version.
5. PrintCentral Productivity Apps for iPad
PrintCentral is fulfilling your printing requirements. If you get your stuff printed spending a lot of money, then just check more options in iPad to print.
6. Desktop Connect Productivity Apps for iPad
Desktop Connect is a productively designed for iPad and its well connected too.
Different mobile phone companies are working in the market and are providing many useful and interesting applications for their users. IPad is also one of the best mobile phone company in the mobile market. IPad is also providing many applications for its users. These applications are the main reason that why iPads are very famous in the market.
Five Best iPad applications
There are thousands of Apple applications that are available at Apple Application Store. These applications are also available online on different websites. Apple iPad is also providing many useful and interesting applications for the iPad users. Out of the thousands of useful iPad applications, following are the best five iPad applications.
1. Left brained or right brained
This application is very interesting and provides a quiz of different questions to the iPad user. The user has to answer the questions and this small intelligent iPad application will determines that are you a right brained or left brained person. It is proved by the scientists and psychologists that right brain is intuitive and holistic, while on the other hand left brain is logical and symbolic.
2. Facebook
This is a free application that is provided by the iPad for iPad users. Facebook is one of the best and famous social networking website and almost every one is a member of this site. This iPad application is designed according to the use of users.
The main factors, which you will always consider when buying a netbook laptop will generally be, the PC configuration, the price and the brand.
As the mobile computer becomes more famous, there are a lot of famous brands producing branded laptops with variable features. Although it can be easy to buy a netbook from a famous brand, but a famous brand laptop would always be pricey for some one who changes the machine so often. Thus, it is better to order some OEM netbook laptop, which also has amazing configuration.
Economizing electricity has always been a worthy goal. It becomes even more in the summer season. People use to reduce the amount of power that desktops and servers eat up. This thing not only reduces the heat but it also reduces the overall cooling load. Power supplies, CPUs, CRT monitors, hard drives and high-quality graphic cards are not major energy pigs, but if all things are running simultaneously they can add up consumption.
The Kill-A-Watt cumulative Kilowatt-hour monitor is a fast and cheap method to calculate how much electric power one PC or monitor is eating up. The Kill-A-Watt sells for approximately 30-USD. It measures volts, amps, watts, Hz and VA (volt-amperes). It is interesting to analyze the differences between a working system (under load), an idle system, and a system that is purportedly "off". Today, off doesn't mean off, but rather "on a little bit".
Arjan Van de Ven and Auke Kok the two Linux developer at Intel's open Source Center had demonstrated booting Linux system in five seconds. They demonstrated at Asus EEE PC that had a solid state storage both developers beaten the 5 seconds time by loading 2 soft wares Fedora and Moblin. They demonstrated that in front of audience.
Now question is that how they did that? According to Arjan it starts with right attitude, that doesn't mean booting faster, its only about booting in 5 seconds. Its better to set a time budget for whole system rather than saving seconds here and there and every step of the boot should have to be complete in allocated time.
Nothing can be skipped while booting because Booting means making CPU and disk idle. That 5 second booting time did not include bringing up the network but that includes starting Network Manager. Arjan said that a conventional hard disk in a system take more time for start up, he has run the same load on a ThinkPad which taken 10 second time.
Fedora takes 45 seconds from power on to GNOME Display Manager log in screen. Boot Chart tool gives some details about that. In Boot chart figure 1 of Fedora boot, that figure shows the system is doing some time wasting things. It takes a whole 1-second in starting and checking the loopback device to see if all the network interfaces on the system are loopback. Then 2 seconds to start "send mail". For that Arjan suggested for the common laptop use case that user can simply run ssmtp server instead of SMTP server, which is used only for outgoing mail.
With the blade competition getting more intense, IBM didn't get the second best award sitting still. HP is having Shorty, and Big Blue coming with the BladeCenter S. The 7U unit is expandable to 11U to increase blades, storage or tape backup. Designed for smaller offices that mostly not have a separated server room, the BladeCenter S comes with two nice features: number of inbuilt air filters that prevent from dust & a noise attenuator, which muffles the noise of the fans.
Operating System
We will be fair to say it was this area that surprised us the most. Windows Server 2008 was introduced on Feb 27. It qualified for this awards program by just days. Windows gets a lot of press, but let's faces it; it's more often than not press that Microsoft doesn't want.

Yet despite contest from what is most of times thought hipper and cooler — a stellar enterprise-class Linux, a well-known energetic variant, a mature Unix distro, and the cultish Leopard — Windows Server 2008 was the favorite OS by far. If this analysis is any kind of barometer, the rule of Windows Server 2008 in the data center has begun.
Consider the space where you can put your monitor, mouse, keyboard, speakers, processor etc if you are going to buy a PC. You can reduce the space occupied with your PC if you go for all in one PC incorporated in Keyboard.
This new invention will not only reduce the space occupied by the old models of PC but will give you the first class speed.
This keyboard build in PC features the Intel Core 2 Due & Quad Central Processing Unit which will greatly enhance the performance.
Lenovo has, once again, launch another laptop of its kind; a 16 inch wide-screen laptop packed with lots of entertainment features; the laptop is claimed to be lightest in weight and it really is. The laptop is launched in India along with IdeaCentre A600 All-in-one Desktop. The laptop is also the first one from Lenovo with 16-inch wide screen.
Lenovo claims that the laptop is not only lightest, but also thinnest. The laptop weighs 2.55 Kg; while normally laptops of 15-inch weigh more than that. Also the laptop is just one inch thick at it's thinnest point. These features make it a perfect one for mobility and portability without compromising on the size of screen.