Archive for HippoVNC server
Both of the awesome invents iPhone and iPod Touch  has amused thousands of people with  extraordinary features . But this feature really makes one feel to buy iPod Touch or iPhone when you can turn  any of it as remote and control your very own personal computer.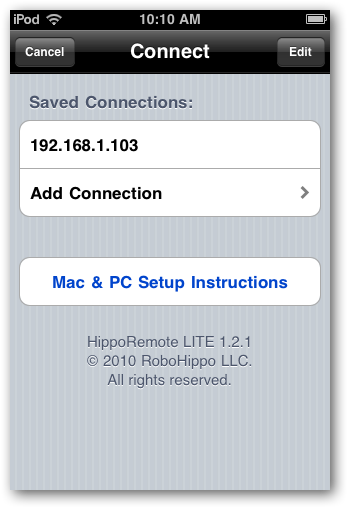 Yes, this is possible. Now make your iPhone or iPod Touch a remote for controlling your PC.
Things you need:
Personal Computer with Mac, Windows or Linux operating system. (Here I am assuming that you have Windows 7 OS at your system.)
A third party software HippoVNC server installed on your PC.
Install HippoRemote Lite application from Apple App Store on your iPhone or iPod Touch.
A Wi-Fi router.
Step 1, install HippoVNC server
You have to install the HippoVNC server on your personal computer. You can download the software from application developer's website free of cost.
When HippoVNC server download completes at your computer, open and run the software.
Select the destination folder where HippoVNC server's file to be extracted.
Now execute the WinVNC.exe file from the folder.
Your computer's Firewall may alarm you during installation, just click allow access.