Archive for Amazon
The growing electronic book collection has been tempting more and more book lovers to buy an e-book reader. There are several competitors in the industry today, but let's take a look at the two main players in the industry: Amazon's Kindle and Apple's iPad. Have a look below, to determine which one is a better reader.
Budget
Costing around only $139, Amazon's Kindle makes the iPad seem heavily over-priced. By adding just $50 to your budget, you can own the Kindle 3: Wi-Fi + 3G edition. The iPad costs $599 for Wi-Fi edition only, and $735 for Wi-Fi + 3G edition. This makes the iPad go out of reach for students and book lovers with a low budget. Thus, the Kindle wins this round with a major landslide!
Platform And E-book Collections
Being more capable of supporting different e-book formats than the Kindle, the iPad wins this round.
However, the Kindle store has now started putting up a big fight with iPad. This competition is due to the competitive prices being offered by the Kindle store. Also, the Kindle store is now being operated by one of the largest electronic book distributors in the UK.
Furthermore, if you need to read books listed on a public domain, iPad 2 scores again. The Kindle does not support this format.
Battery Life
Having an E Ink display means power is used, on the Kindle, only when you turn pages. This means it gives the reader up to two weeks of reading time. Therefore, the iPad, giving only upto ten hours of reading time, loses to the Kindle again.
Nook eReader from Barnes and Noble is considered to be the only competitor for Amazon Kindle DX and Amazon Kindle 3rd generation readers in the market. Without wasting time, the company has launched the 2nd generation Nook eReader named NookColor. These eReader are based on different approach and are a big step ahead.
When we compare the previous model of Nook and different models of Kindle with the latest NookColor we observe that the screen is big 7 inches and fully touch sensitive. The software is also improved and upgraded to Google Android Os 2.1 éclair. Although you cannot install ordinary Android application still some applications which are provided by Barnes and Noble are supported. Honestly that doesn't make much difference because it is only a dedicated media reading device.
Reading Materials
As it is clear from the name that the eReader is related to reading which means that library is essential. Barnes and Noble have provided us almost 2 million reading different reading materials which cost $ 9.99 at maximum. They have also provided us ease of selection. We can read the books for some time before making our choice and purchasing the material. You can also subscribe magazines. A trail period of 14 days is provided for any magazine you like. This a great feature because now can check whether the book or magazine is suitable for you or not. The company has also promised his customers that they will provide downloadable Enhanced Nookbooks including illustrations.
What's It Good For?
Although the main feature of eReaders is reading stuff still it provides its users entertainment like surfing on internet, get connected online through social networks, listening to your favorite music and playing many games. NookColor is closer to IPad and many tablets to some extend but the eReader is not a replacement of your notebook. You also have to carry a notebook along with any eReader device.
We easily understand the difference between models and devices by considering few stats such as:
Size
The screen size of 1st Gen Nook, iPad, 3rd Gen Kindle and Nook Color are 6" diagonal, 9.7" diagonal, 6" diagonal and 7" diagonal whereas Touch screen size of 1st Gen Nook, iPad and Nook Color are 3.5" color, 9.7" diagonal, and 7" diagonal correspondingly. Read More
The App Store has brought out a bunch of apps for the iPad. While there are many that were already available for the iPhone, they will look much better in the larger iPad. There are many new ones too. The costs are a bit high to what you would usually find in the App Store.
1. News and Social
NYT Editor's Choice:
This app shows you what the 'New York Times' looks like on the iPad. It is free. There may be hidden subscription charges.
USA Today:
This app shows you how the 'USA Today' looks like on the iPad. This is free but there may be hidden subscription charges.
WSJ:
The Wall Street Journal has launched an app to allow its followers on iPad to read the paper. It is a free app. There may be hidden subscription charges.
AP:
This is a really good app. It includes video, image and text content as well. It has an unorthodox design. This is another free app.
NPR for iPad:
This is a digital version of the NPR. There is text and photo news along with the audio. It is a free app.
Popular Science:
The tease at the App Store hints that this is not only a magazine scan. Rather it has been influenced by the amazing concept that surfaces in December. This app costs $5.
BBC:
This old broadcaster is now on iPad with its very own app. There is all the BBC's news coverage. This includes print, video and radio.
Bloomberg:
The app for all of you with a business sense. Your iPad can become a finance terminal with this app. It is free for now.
StumbleUpon:
You can use your Stumble Upon account for simple link sharing and discovery. It is a free app.
Instapaper:
The app that lets you save anything that you have come across online in a cleaned-up format for later use. It costs $5.
NewsRack:
NewsRack worked great for the iPhone as an RSS reader. The great news is that if you have already paid $5 for the iPhone version, then the iPad download is absolutely free.
Feeddler:
Feeddler is a free app that will cover all the basics if you do not want to spend money for a feed reader.
Fluent News:
Some of you might not like the RSS readers. If that is the case, then Fluent is your thing. It will make your daily news to be a little guided into a single interface. This app is free.
Accuweather Cirrus:
The app that will make you an expert weatherperson. It includes prediction and reading. It is free.
Tweetdeck:
Tweet deck worked great with the iPhone. It takes the column-based desktop app, and adapts it to the iPhone's screen. The end result is in either two column (a portrait) or three column (landscape) modes.
AIM:
AIM is the AOL's instant messaging app. It looks pretty stunning. This app is free.
IM+:
The app that will let you do some serious multi-protocol messaging. That includes Live, Facebook and Yahoo, among others. This app is for $10.
Loopt Pulse:
This app provides localism. Find out what is going on around your sofa, right from your sofa. It is free.
Dash Four:
Foursquare on the iPad might sound like a strange idea now. Yet it won't seem so strange the next time you are in Starbucks, with your iPad. This app costs $2.
Craigsphone:
While the Craiglist website is a disaster, the Craigslist iPad app looks great. It is free.
2. Entertainment and Video
Netflix:
An app that provides Netflix streaming over Wi-Fi. You should first have a NetFlix account that costs around $9 a month these days. After that, you can have thousands of brilliant TV shows and movies in your hand. The app is free.
ABC Player:
ABC Player is one of the first TV apps available in the store. It has made a promising start. It provides an amazing slick interface for the ABC video content that is available on their website. This app is free.
Marvel Comics:
An app that turns your iPad into a comic book for real. It provides a free reader but the comics have to be paid for.
iBooks:
iBooks is the Apple's ebook store. It is the best thing yet for iPad ebooks. There is no competition for now, but Amazon and Barnes will be hoping to change that soon.
NBA Game Time Courtside:
An app that provides you with a full and interactive dashboard for all the basketball games that you watch. It is a joy for all the basketball fans. It is absolutely free.
MLB At Bat:
It is an app that enables you to watch the live games like the iPhone version. The extra bit added is that it simulates the games you are unable to watch due to blackout or licensing issues. There are also statistics at hand. It costs $15.
ESPN ScoreCenter:
For all of you out there who like to eat, drink and sleep sports, this is the app for you. It provides a constant feed of sports information. There are the specific game scores like on the iPhone app, but the iPad app has been enhanced to include scores of columns, frames and panes. If you love sports, it costs a mere $5.
Yahoo Entertainment:
Yahoo Entertainment pulls info from the vast network of Yahoo sites. It has complete TV listings, videos and entertainment news. It has been amazingly designed, and it is free so it is definitely worth a download.
SoundHound:
SoundHound is a song recognition app with a difference. It has an immensely fast recognition engine. It does not only ID any music that is playing, but also provides lyrics, charts, music discovery and full playlist playback. The charts are based on what people are Idling and not based on buying statistics. It is for $5.
Shazam:
It is an app that provides song recognition. Still, it will not recognize your own singing voice or humming like SoundHound can. Also, the song recognition ability is not as good. Still, it is a free app so you can try it.
Pandora:
The Pandora's iPad app is sticking to its basic customized radio feature. It provides artist info along with your playlists. Read More
The PCs which have option of all-in-one are definitely carries extraordinary value, especially for those clients who would like to use personal computers that should not be bulky, rather these should be light weighted. Actually, these clients have been used to work with that type of gadgets that don't require any particular and additional installation. Hence, by using an all-in-one personal computer, they don't require much time for fixing it up. They also don't need to know more details about Information Technology (IT).
ASUS EE Keyboard PC
For the type of above mentioned customer, one of the available products in market is 'Asus EEE Keyboard PC'. This was offered some time back in the market. Now, one can purchase it from Amazon at a very high cost of US$599.
All-in-one Product Offered by Apple
Prior to speaking about its high price, let us see that actual product with its detailed features presented by apple. It is actually a complete notebook build up inside the keyboard. This keyboard is not as chunky as that of the normal size keyboard that you use in office. It also has a battery inside it.
Applications of any gadget make it more attractive, entertaining, informative, and make you more productive. Free or paid applications for Apple's iPad have wide range, like social networking, business, communication, games, entertainment, creativity, and more. Following are the best 10 iPad entertainment Applications
Entertainment Applications
These Applications Make your iPad more enojyable in real sense.
1. ABC Player
This FREE application allow your iPad into a TV and entertain you with full episodes of Grey's Anatomy, Lost, Desperate Housewives, Dancing with the stars, and much more popular shows in your hand. These full-screen high quality definition videos look sharp and smooth, with limited commercial interruption.
2. Barnes And Noble Nook For iPad
This is a Free application for Apple's iPad. The Concept of this application is to provide you a free library of E-Books. You can share titles with friends using "LendMe" technology. iPad running Nook software allow you "Lifetime Library" features accessible from your device.
Today Apple iPhone is gaining popularity in gaming industry rapidly. iPhone is becoming portable gaming system. Games Developers are developing every kind of game, from basic puzzling games to most enhanced graphic games. Top 10 Games of iPhone of 2011 are following.
1. Cut the Rope
Cut the Rope is the brilliant game in the App World because of it's extraordinary game play importance, magnificent graphics, accurate physics and sensitive action controls. It is one of the best puzzle games available today.

2. Sonic 4
Sonic The Hedgehog 4 Episode I is one of the most wanted games for the iPhone. It is released with enhanced features,
graphics and controls. It is one of the brilliant releases from THE HEDGEHOG.
3. Fruit Ninja
Fruit Ninja is a very interesting action game with amazing Arcade mode. It is a very simple but quite funny game Released by Halfbrick Studio. Fruit Ninja sums up all features which iPhone game needs.
Now iPad is offering great set of productive apps for professionals, who can use these productivity apps anywhere. It is very difficult to understand the technology of iPad as it provides you a lot with a faster processor and a bigger screen. It has the productivity abilities like one's in the office. New added iPad productivity apps make it different from many other technologies, which is also the point of attraction for many new users. With these Productivity apps for iPad you can finish your tasks before time and in a more professional way. There are many interesting iPad productivity apps but here we will discuss the top 10 for your assistance.
Top 10 Productivity Apps for iPad
You can use your iPad for some of the great productivity apps. With the use of these productivity iPad apps you can achieve your tasks and goals to boost your business. So here are the top 10 iPad productivity apps.
1. Papers Productivity Apps for iPad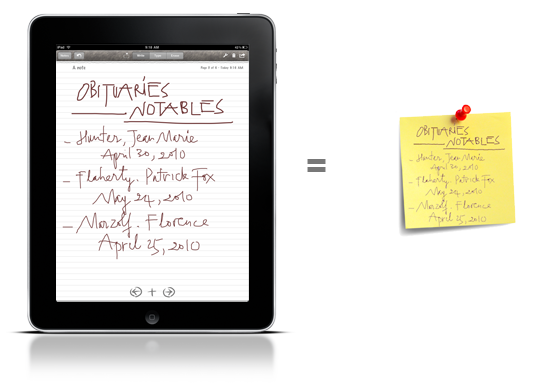 It provides you to arrange and manage your important papers into your iPad library which is being treated as a research tool. With this, it also allows you to access eight informative databases having millions of articles.
2. PDF Reader Pro Edition for iPad
iPad PDF reader can exchange PDFs via USB file transfer through Wifi, emails or iTunes. This is ultimate and comprehensive PDF app for iPad supports auto rotation, searching, bookmarks and many other features. The famous use of this app is telecommuting through iPad.
3. DeskPad Office Productivity Apps for iPad
DeskPad Office allows to you take notes and keep in track the aspects of social and professional life. It gives you the full authority to scribble on iPad as you want.
4. Things Productivity Apps for iPad
Things for iPad apps are very productive, interesting and user-friendly. You can rearrange the lists into projects, perform sorting task for various criteria and keep these features together with things. iPhone and iPad apps can sync wirelessly with Things desktop version.
5. PrintCentral Productivity Apps for iPad
PrintCentral is fulfilling your printing requirements. If you get your stuff printed spending a lot of money, then just check more options in iPad to print.
6. Desktop Connect Productivity Apps for iPad
Desktop Connect is a productively designed for iPad and its well connected too.
Google has  made a significant update in the last 12 years which has made searching on Google much more easier, faster and efficient. According to experts, this will have a significant impact on how users search on Google which would have a direct impact on the businesses which advertise on Google or rely on traffic from the search engine.
Top officials at Google have said that the new searching technique will help users save time as once you enter any keystroke, the search box will start displaying results which means that you won't have to enter the whole search and you would be given the desired search results.
The co-founder of Google Instant, Sergey Brin, highlighted this new searching methods as "a little bit of a new dawn in computing". Read More
Since college is such an expensive enough endeavor, you might be wondering how to cope up with the expense for your textbooks. There are various ways through which you could cheap and affordable books:
Amazon
Amazon being one of the leading names in the textbook business offers you cheap and affordable textbooks. For this they even offer free Amazon Prime membership for which they will refund your remaining balance and extend your prime membership into the future. Here you could find a variety of books catering to your need which could be from new with a slight discount to heavily used and extremely discounted.
Chegg
This might be the most affordable means of all, Chegg offers a nice compromise between buying the overpriced textbooks from local bookstore and shopping for used books online. The books here aren't purchased and are rented out to students for a period of either a semester, a quarter or a 60 day rental window. For this you might get up to 80% off compared to the retail prices. The added benefit is that  you get a 30-day "any reason" return policy and free return shipping.
AbeBooks
AbeBooks is a well known name in the textbook business which likewise other online stores provides you access to new, used and rare books. The have a section with new and used books that average 50% off retail and there were other books that crept up in the 75-90% range. Their prime offer is that they offer you a 30 day return policyand an easy to use sell back program.
Half.com
The strong point which stands out for this store is their buying wizard. Likewise other stores, half.com also offers you cheapest prices in terms of new and used books. This store is a subsidiary for eBay. Using the mentioned wizard above, it would help you find your required book with the best possible combinations of prices and combined shipping to get your books quickly and cheaply.
Bigwords
Likewise other stores, Bigwords also is a text book selling store which deals in new and used books. Their main focus is multi item price optimization. When you look for your required book, this store would help you find the absolute bargain basement prices. However when you use gets over, you could use the bigwords engine in reverse to sell them all back or donate your textbooks through Better World Books to help fight illiteracy in developing nations.
gScreen's 17 inch dual screen laptop is called Spacebook. It is the first notebook that has two slideable screens, and it also has a full keyboard. When the news for its announcement was revealed it was of approx. 15.4 inch screen and was expected to be rolled out at the end of 2009. But now it is delayed and the reason is that the company is now altering its 15inch screen and replacing it with two 17.3 inch screens.  But when we look at specification this laptop is very efficient in performance, the specifications are here for you.
Specifications
1. Screen: Dual 17.3 inch LED-backlit display screen
2. Processor: Intel Core i7-620M 4M with 2.66GHz.